City gardens on the roofs of the buildings are more and more popular trend. They are created by individuals, housing cooperatives or even hotel owners, who think about their guests' comfort and want to distinguish their places. Such a marvelous garden was set on the top of the Astoria Hotel in Warsaw.
The Green Image
The green areas around hotels are representative zones that influence their image. Nowadays, they not only have to fulfill basic consumers' needs but also they have to be visually attractive, providing more than the competitive hotels can offer. In the times of a hectic life and lost connection with nature, the harmonious piece of greenery blended in the nice surroundings is the right choice where one can soothe the nerves after a stressful day.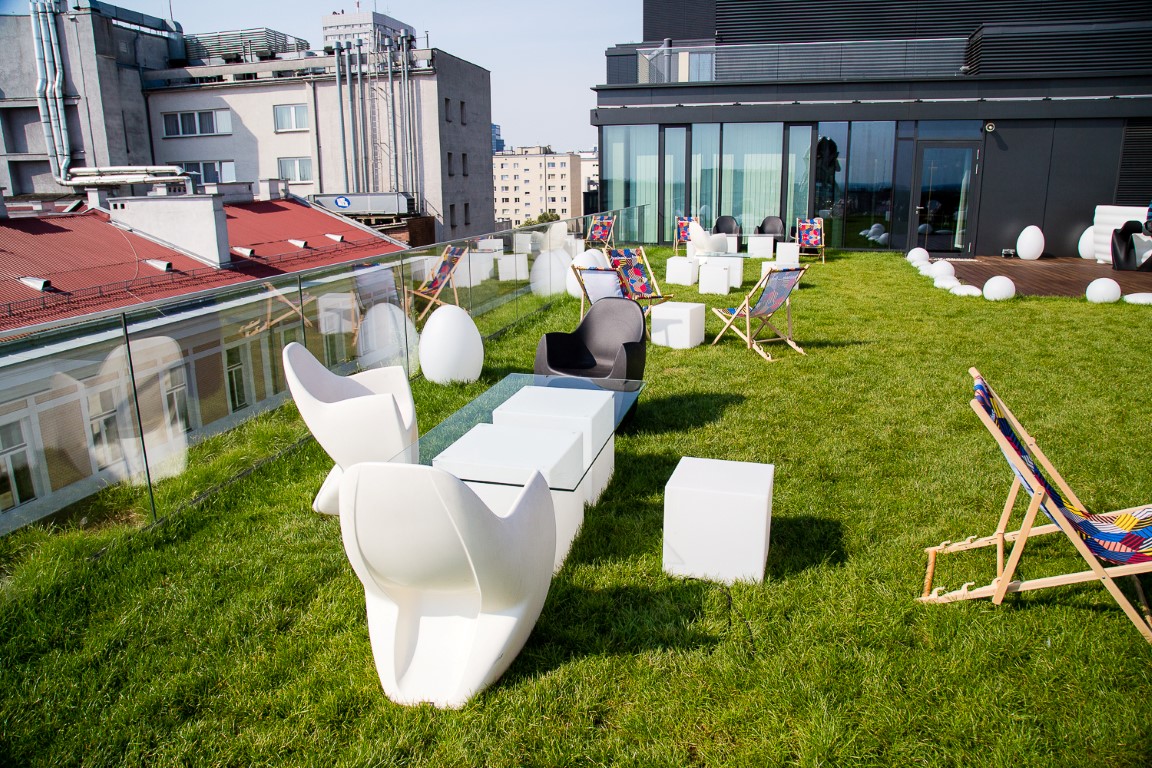 The Holistic Approach
A comprehensive arrangement of space allows to get a consistent effect. The greenery near the hotel can also appear on the floors of the building. The best idea is to set large pots on every level and the top of the hotel can crown a large garden. One of the first green relax zones of this kind was created on the Astoria Hotel in Warsaw. In this big area one can see vast lawns as well as the furniture for  relaxation, such as trendy seats, tables, lamps and bar stools.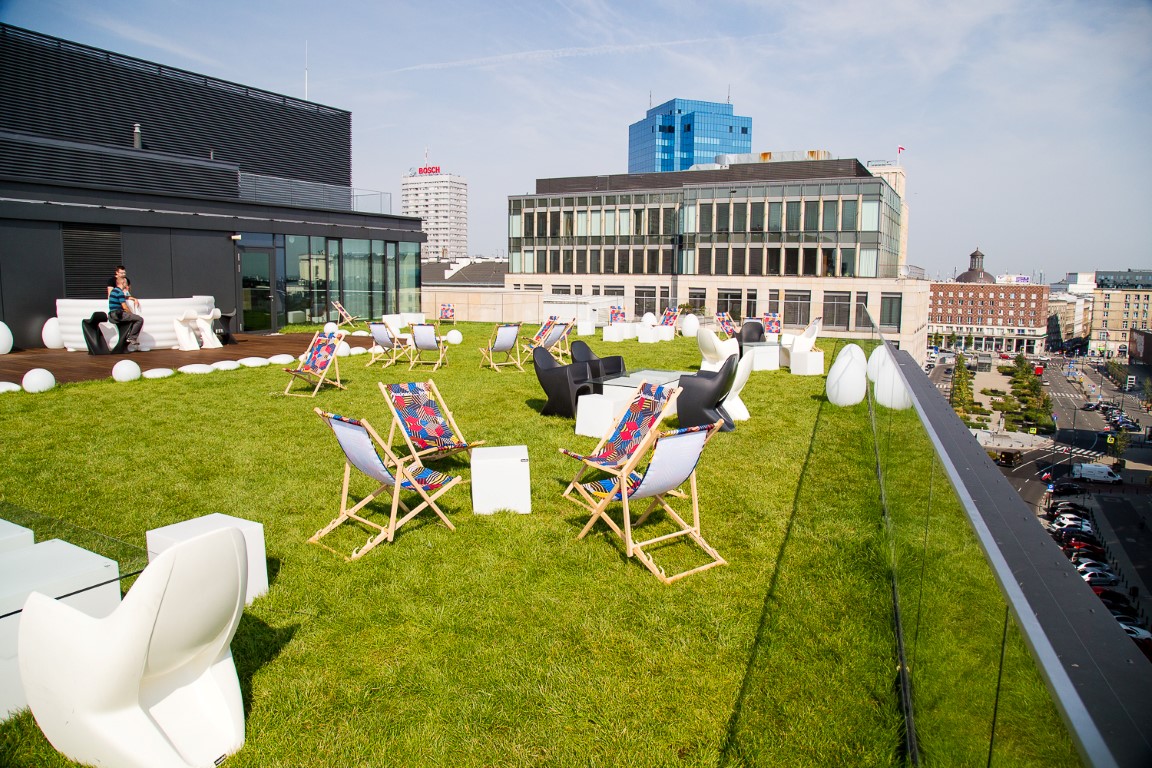 The Unique Furniture
The trendy furniture by nuno'ni created an interesting contrast to naturally green lawn and the material it was made from allows to expose it outside. Polyethylene does not crack under the influence of different weather conditions and its color and form does not change even during the hottest days. The Loft seats and Cubrick tables are not the only attraction for the hotel guests. On the roof, there is a bar, and not a common one! The illuminated counter makes the whole composition breathtaking, especially after dark. Also, the light tables add some atmosphere to the arrangement.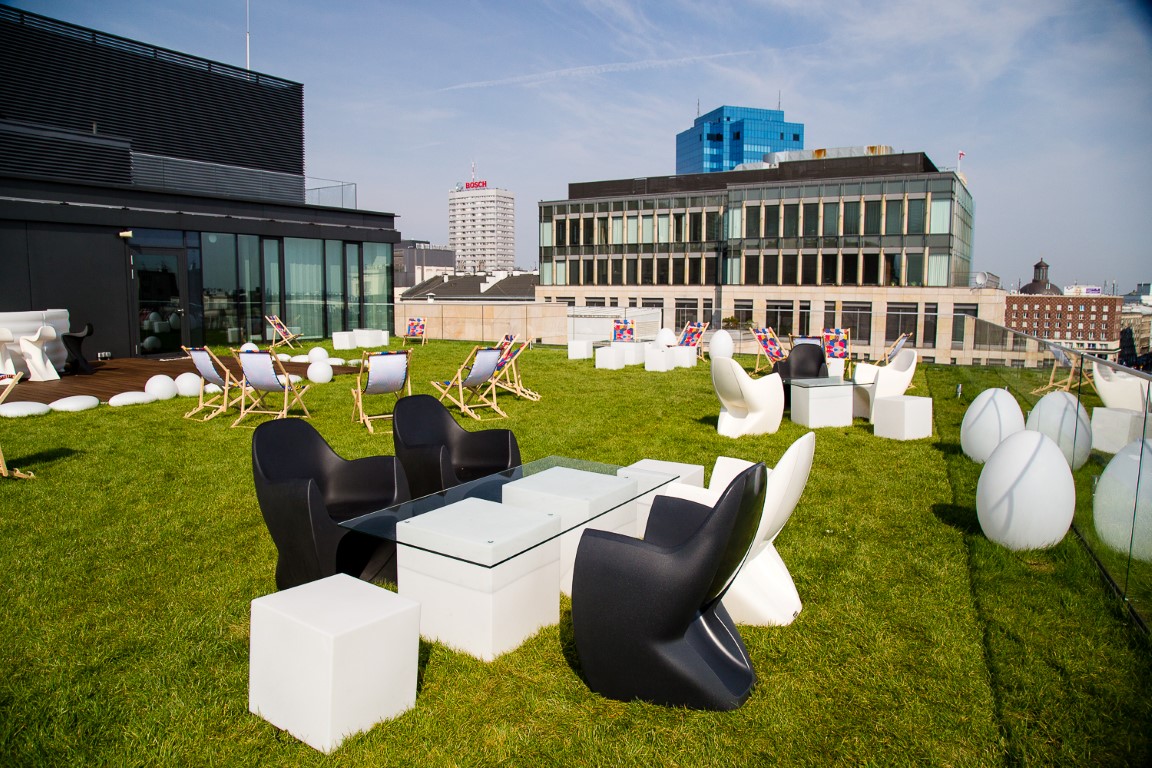 The sunset and a warm, summer evening with the view on the Warsaw panorama, among juicy green lawn, in the surroundings of the illuminated comfortable furniture…Offering such attractions to people, the success in the hotel industry is guaranteed!
See more photos of the Astoria roof garden here: